Lowongan Kerja ADIDAS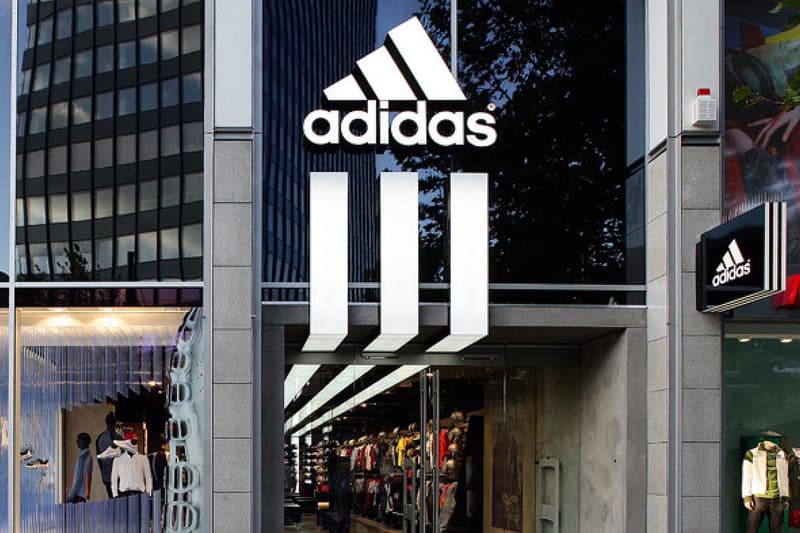 Adidas AG, juga dikenal sebagai adidas, adalah sebuah perusahaan sepatu Jerman. Perusahaan ini dinamakan atas pendirinya, Adolf (Adi) Dassler, yang mulai memproduksi sepatu pada 1920-an di Herzogenaurach dekat Nuremberg. Rancangan baju dan sepatu perusahaan ini biasanya termasuk tiga strip paralel dengan warna yang sama, dan motif yang sama digunakan sebagai logo resmi adidas. Adidas adalah perusahaan pakaian olahraga terbesar di Eropa dan kedua terbesar di dunia setelah Nike
Pada Agustus 2005, adidas mengakuisi rivalnya, Reebok, dalam upaya memperketat persaingan dengan NikeSelama 68 tahun lamanya grup Adidas telah menjadi bagian dari dunia olahraga di segala bidangnya dengan menawarkan sepatu, pakaian serta beragam aksesori pelengkap olahraga yang bernilai seni pada setiap produknya. Sekarang, grup Adidas telah mengglobalisasi dan menguasai di bidang industri produk olahraga dan menawarkan portfolio yang begitu luas dari segi produk di seluruh dunia. Strategi grup Adidas sangatlah simpel: memperkuat bran secara terus menerus dan mengimprovisasi posisi kompetitif serta keuangan mereka. Aktivitas perusahaan dan lebih dari 150 cabangnya dipantau langsung oleh pemimpin grup di Herzogenaurach, Jerman. Tertanggal 31 Desember 2009, grup Adidas tercatat mempekerjakan sebanyak 38.982 orang selama setahun penuh.
PT. Nissan Motor Indonesia
saat ini sedang membuka lowongan kerja untuk menepati posisi berikut
:
SENIOR MANAGER PRODUCTION FW
Purpose & Overall Relevance For The Organisation:
·
Fully accountable for quality, production, manufacturing efficiency targets and Social & Environmental Affairs (SEA) in one or more factories of at least 1 million monthly capacity.
1.
Lead a production team in one or more factories which have multiple production facilities in different geographically locations (of at least 1Mio pairs monthly capacity) in managing all production process, quality, Manufacturing Excellence, SEA and adidas Group standards implementation.
2.
Manage operational relationship with the factory production top management to drive best practices across different quality mindsets and cultures of the assigned factories using CI techniques and quality tools.
3.
Manages the development of cohesive and customer focused production direct reports ensuring that quality is the paramount priority and focus.
4.
Lead a team and contribute to the achievement of team objectives.
5.
Give input to issuing directives in production and related supply chain (T2/T3) area.
6.
Tactical and operational direction setting focus primarily on direct area of responsibility. Influence direction in the production area
7.
Make day to day decision including those in moderate or high level of complexity within the defined production quality, availability, Manufacturing Excellence (ME), SEA scope.
8.
Explain standard or directives to HQ (Brand Operations, Quality) and external parties (Factory QIP/Prod Heads) to accept practices, approaches or solutions for the purpose of achieving shared goals (e.g. quality and efficiency.)
9.
Influence factory (T1 & Supplier T2) production/quality Senior plant Management and drive change to achieve right quality mindset in the responsible factories.
Sourcing Director, Head of Manufacturing Excellence, Footwear Quality

Factory General Managers , Factory Heads of Production, Factory Heads of QIP

3rd party / external auditing firms (Quality, Lab, SEA, Sustainability, Security, etc…)

Tier 2 material suppliers-as lead

Senior Development/Commercialization Manager.

Other GOPS functions (Brand Operations, Quality, Costing, Planning, SEA, Materials, etc…)
KNOWLEDGE, SKILLS AND ABILITIES
:
Have a strong Continuous Improvement (CI) and quality mindset. Able to utilize depth of manufacturing knowledge to identify problems and provide solutions.

Use CI techniques and quality tools to continually improve efficiency and quality standards.

Actively manage and develop direct reports with a high focus on effective teamwork.

Coach and support direct reports to further their skills, capability and management competencies.

Have knowledge and expertise and can support LO/regional based projects within defined scope of production.

Can lead projects but required training in project management skills.

Good written and verbal English communication.

Chinese or Korean (for communication with Factory Prod/QIP heads) a clear advantage.
REQUISITE EDUCATION AND QUALIFICATIONS:
University degree preferably on shoe making or engineering.

5-7 years shoes making or quality experience in Footwear industry.

Prod or dev/comm background or shoes making / quality experience.

Potential to develop into manufacturing expert/shoe master in a few years.

2-3 years experience in one other function outside Production i.e. Quality, Commercialization, Planning or Development.
1.Jika Anda Memiliki Keriteria Tersebut Silkan Kirimkan Lamaran Dan Cv Anda Ke Alamat

di Bawah ini :
2.Pendaftran Paling Lambat
Selama proses rekrutmen & seleksi, pelamar TIDAK DIPUNGUT BIAYA dalam bentuk apapun
Hanya pelamar yang memenuhi persyaratan dan TERBAIK yang akan dipanggil untuk mengikuti proses rekrutmen & seleksi
Keputusan panitia rekrutmen & seleksi adalah MUTLAK dan TIDAK DAPAT DIGANGGU GUGAT